During the group projects, students design and carry out a project in the field of human rights protection. They form groups, decide on a topic for their project, plan out their goals and timeline, work with relevant partners if required, and raise the necessary funds. Alternatively, to the group projects students can opt for a human rights related internship or to participate in the Nelson Mandela World Human Rights Moot Court. Below are two of the many previous group projects, and a few testimonials from students who did an internship or Moot Court.
Working on diversity
As a way of tying together theory and practice, students created a public discussion that was held to address issues of discrimination in the hiring process, such as discrimination on ethnicity, race, or gender identity. Dr. Imke Leicht, Head of the FAU Office for Gender and Diversity, and Dr. Cornelia Höschele, the Diversity Manager at the Equal Opportunities Office of Erlangen, shared their expertise in this area from academic and practical approaches.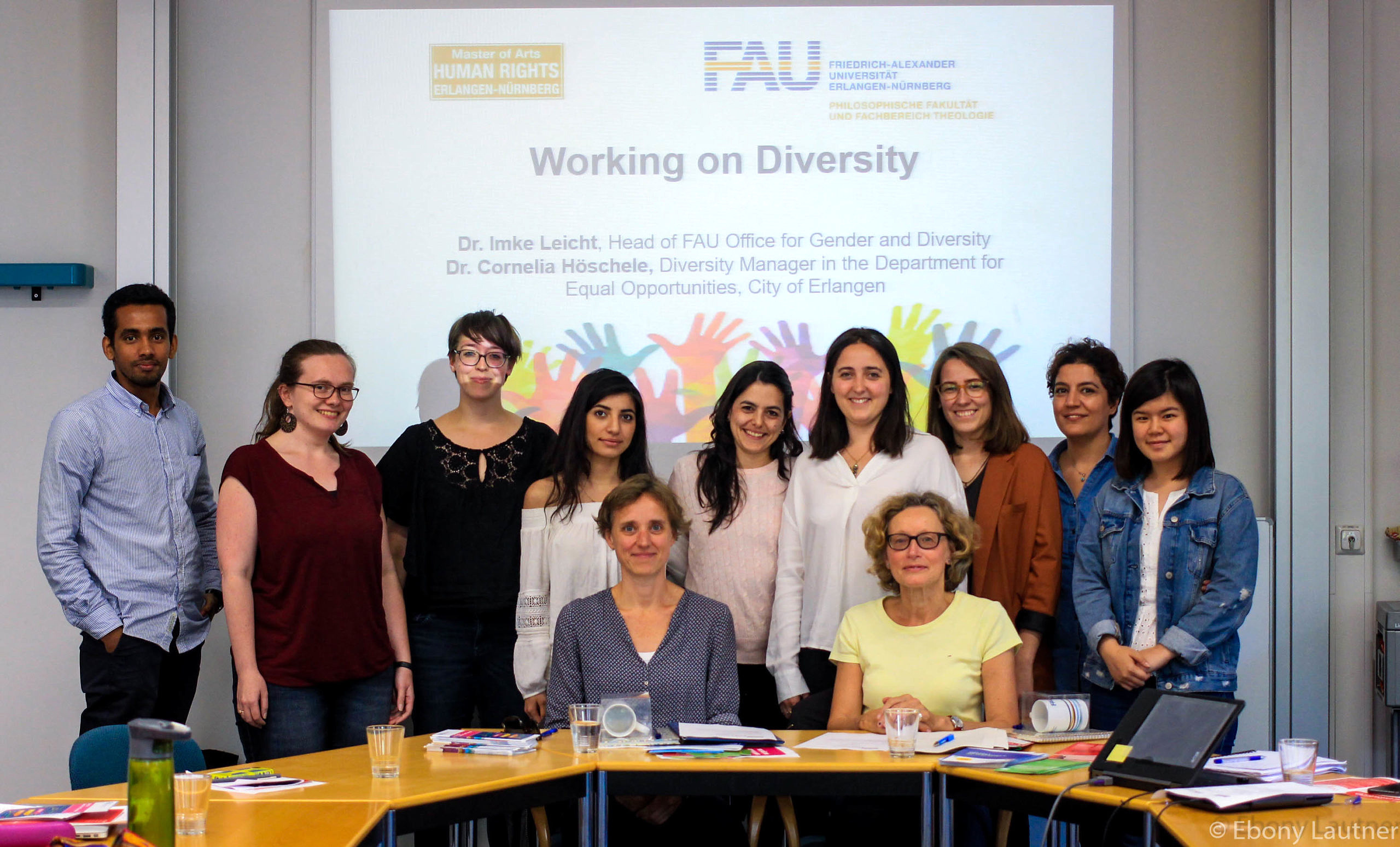 Starting Over
Starting Over was a photo exhibit which showcased photographs and stories of success from refugees in various parts of Germany. The exhibit brought to life their colourful journeys from fear and uncertainty to fruitful new beginnings. The photo exhibit was first held in the city library of Erlangen City and then was also exhibited in the cities of Nuremberg, Uffenheim, and Neustadt an der Aisch. In each location openings, the refugees who participated in the exhibit were invited to share their stories, calling for unity and love towards newcomers.
Here are what a few students say about their experiences in the Moot Court or in an internship:
---
"I represented FAU at the Nelson Mandela Human Rights Moot Court Competition in 2019 and did a voluntary internship at the Mirovni Institute (The Peace Institute) in Ljubljana, Slovenia from October to December 2019. My experience representing the University for the MOOT Court was deeply enriching. The coaching (which was done by another alumni of the program jointly with two professors) was incredibly rewarding and fruitful. We won an honoring mention to second best memorial, met people from all over the world with whom I exchanged incredible experiences and knowledge. Representing the University in the MOOT Court competition was as challenging as it was rewarding and I treasure that memory close to my heart.
On the other hand, I decided to do a voluntary internship with the aim to strengthen my career and gain professional experience. Through the ERASMUS+ Mobility program I was able to do a three month internship in Ljubljana in an NGO specialized in migration, peace, democracy and human rights. As an international student coming from Latin America, I wouldn't have been able to do it without the financial support of the International Department of the university. This internship allowed me to grow so much both personally and professionally. I gained a lot of insight into migration movements, whilst also giving back from my knowledge, background and perspective.
I made friends for life, met and connected with colleagues who I admire and gained a lot of experience working in multicultural environments and research. Personally, migrating to work temporarily in a country where I didn't speak the language nor knew anybody helped me being more independent, made me stronger and more confident in myself, I will forever be grateful for that opportunity. Ljubljana became one of my favorite cities in the world." 
Laura, Batch 2018-2020
---
"I work as a mobile consultant in an NGO in Vienna whose goal is the support and empowerment of migrant women. My daily responsibilities are focused on helping and counselling women victims of human trafficking living in one of the protection shelters. This position helped me realize how important the interdisciplinary approach learned in our master studies is in practice and how the fight for the protection, promotion, and fulfilment of human rights is a day to day commitment if you are really engaged in this field."
Aimée, Batch 2021-2022
---
"In August 2022, I started an internship at the International Organisation for Migration, which is part of the United Nations. I supported various projects whose goals were to support and counseling to migrants living in Germany and to respond to the Ukraine crisis. My responsibilities included assisting in coordination with other IOM missions in providing counseling, preparing informational materials, and responding to inquiries from migrants and refugees. This experience allowed me to understand in detail the process of rights-based project development in the context of migration assistance and to develop the soft and hard skills required to work in an international organization. At the end of the internship, I was offered a temporary position as a junior project assistant, where I have been working ever since."
Indira, Batch 2021-2022
---