FAU M.A. Human Rights alumna, Camila Chaudron, returned for another year to offer the current batch of students an interactive and knowledge-filled professional development workshop specifically designed for human rights master's students. In the two-part workshop, Camila applied her extensive experience as a professionally certified executive coach to lead the group of students through exercises that not only supported the refinement of their career goals, but also equipped them with practical skills to achieve those goals.
The students, alongside Camila's empowering guidance, were asked to spend time in contemplation, in pursuit of answers to questions regarding ideal work scenarios, dream careers, and desired skills development. With these answers, Camila shared practical tips for finding and applying for jobs that fit directly with students' goals. Through a fun and engaging delivery, Camila's workshop brought research-proven information to life and made the process of attaining a dream job more manageable through thoughtful, incremental steps forward.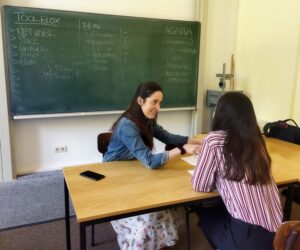 While each student benefited from self-reflection and individual work, the exchange of insights and ideas amongst the group was the key to deepening the potential for growth. Through partner exercises, students provided peer-to-peer feedback on each other's CVs and letters of motivation as well as participated in mock interviews. By engaging in these interactive engagements, students were given an invaluable understanding of how to showcase themselves in all areas of the job application and make themselves stand out with confidence to those hiring.
The work may just be beginning for these students as they venture into the workforce with their upcoming master's degrees, but with Camila's professional development workshop, they have been equipped with a strong foundation upon which they can grow fulfilling careers.
Many thanks to Camila for her exceedingly excellent work and to all participating students for actively engaging and pushing themselves to continue to grow professionally.